Ice Dam and Snow Removal Service in Volga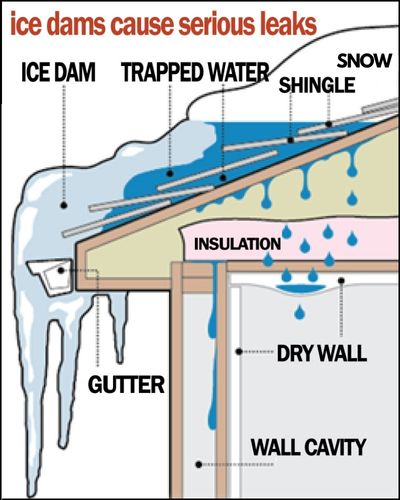 How is an ice dam formed?
The short answer: Ice dams are walls of ice on your roof that act like any other dam. Ice damming will block water from going down your roof and prevent your roofing materials from doing their job.

Shingles and other roofing materials are designed to help water flow off your home. As water backs up from the wall of ice, that water starts moving under your shingles and starts looking for the easiest way to move down. Since your roofing materials aren't designed for this, they simply don't stand a chance. Water will win and the ice dam will continue to grow, blocking the water flow from your roof.

Heat escaping from your home rises and melts the snow, but not all at the same time or in the same areas. As the water from the melted snow comes in contact with the snow that hasn't melted, it gets colder and colder until it eventually freezes. That ice builds up and creates a wall (ice dam) that holds water, which either freezes and increases the size of the wall, or puddles up behind it.

The heat is always released from your home, however, it comes more rapidly from vents, skylights and other areas that have less insulation. This means snow melts in those areas before it melts in areas that have better insulation or are lower on the roof. A lot of times this is near the gutters which is where many ice dams begin.
What is an Ice Dam and how do I prevent ice dams from causing damage to my home?
If you live in the
Volga
, you have most certainly had issues with snow and ice. If you are a home owner, these issues can be pesky problems that can creep into your property overnight and affect your roof. While Volga is prone to seeing freezing winters and heavy snowfall, ice damming prevention is the best way to protect your home from issues like ice ridges forming on your roof. Ice dam prevention and snow removal is the first and most important st from draining off of your roofs, and possibly leaking into your home. The resulting damage from ice damming can lead to backed up water weaseling its way into your home and creating leaks in your ceilings and walls.
So if you've got a 'dam' problem that needs fixing, our shovels and custom made low-pressure streamers make us the ideal underdogs for the job.
About Your Ice Dam Crew in Volga
We're your on-site, professional ice dam pest control service! While we may not be the Ghostbusters, our guarantee is to spare you the horrors of water damage by eradicating your ice build-up. We've helped residential and commercial property owners across the country save money, time and effort and we'd love to do it for you too. YOUR ICE DAM CREW The Ice Dam Crew is a group of humble, ice dam-fighting technicians ready to help customers like you with snow and ice dam removal. We are completely family owned and operated and each of our experience ice dam removal technicians are fully bonded and insured. We tackle snow removal and ice dam removal for all types of properties including:


Residential homes
Cabins
Restaurants
Movie theaters
Anywhere ice builds!
If you are a property owner in Volga, you're in need of ice damming removal solutions, and our handy technicians are on call and waiting to serve you!
Your Ice Dam Crew Guarantee
Our expert Ice Dam Removal Crew will remove excess snow from your roof and plug your leaks—all within 30 minutes of our arrival. We clear up your chimneys and attic vents, and most importantly–get rid of all that packed snow without damaging your roof. We provide safe and effective ice dam removal and prevention services across a whopping twenty-six states (scroll down to see our service areas near you).

Removing Ice Dams from your roof can be dangerous and may cause damage if you do not get professional help. The trained professionals from The Ice Dam Crew can remove snow on your roof, and the ice dams that have formed, in a safe timely manner. Climbing onto a snowy/icy roof in Volga in the middle of winter any time of day or night is dangerous. This is why we want to ensure you that we are fully bonded and insured for your safety and ours. We take all of the required safety measures needed to stay safe on your roof.

Having a trustworthy company working on your roof is important so that is why we want to give you piece of mind with our before during and after photos and our 22+ years of experience. Are you in need or snow removal or ice dam prevetion? Visit our FAQs page for the full rundown.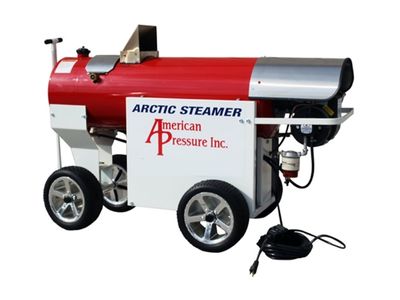 Our Ice Dam Removal Equipment
Our secret weapons are custom low-pressure steamers tailor-made to remove ice damming on roofs. What separates us from the competition? We avoid the use of harmful hot water pressure washes, which may do the job in the short-term, but can actually handicap your roof in the long run. Our low pressure steamers are custom made for ice dam and snow removal so they do not damage your roof shingles.

We DO NOT use hot water pressure washers like most Ice Dam Removal companies. High pressure washers can damage your roof and shingles when they blast 4000 PSI out of the tip of the hose, and they do not burn as hot as a true custom steamer.

Check out our FAQ's page to see the difference between our true ice dam removal steamer and our competitor's hot water pressure washer.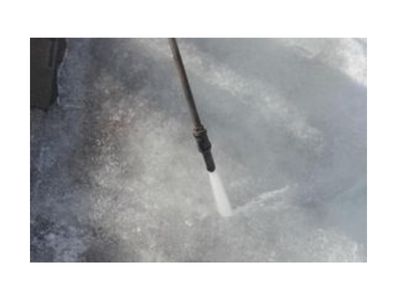 Why it's important to use steam for ice dam removal
Some companies use heated pressure washers to remove ice dams, however, we do not recommend this method. Sending a stream of water at 4000 PSI to your shingles will cause damage. If it is used to remove ice dams and the operator cuts through the ice and into your shingles, they will cut holes in them. Most customers would rather not deal with getting a new roof on top of the damage already caused by the ice dam.

Ice Dam Crew teams only use steam to remove ice dams. Not only is it more effective and faster, but it will not damage your roof. Steam reaching 250-300 degrees is hot enough to cut through the ice quickly, yet at less than 300 PSI, it will prevent shingle damage on your roof. We are so confident in our process that Ice Dam Crew stands behind its work. We are fully bonded and insured to cover all of the work we complete.
Should I try to remove the snow and ice dam from my roof?
Preventing ice dam on roofs is much easier and more cost effective than needing to remove ice dams from your roof and possibly needing to do renovations from water damage. After all, how can ice dams form when there is no water on your roof to cause them? The best thing to do is to keep the snow off of your roof.

Here are a few tips when removing the snow from your roof:

1. If you choose to do it yourself, always have safety gear when climbing onto your roof. Use chains for your boots, harness yourself so you do not fall, use a plastic shovel (not one with a metal tip), and always shovel towards the ground so you do not tear shingles off of your roof.

2. When using a snow rake to remove snow from your roof, be sure to remove all of the snow, not just the top layer. You should scrape all the way down to your shingles. When only the top layer is removed, the snow rake actually packs down the snow onto your roof, and this packed down snow causes ice damming. In most cases the snow goes up your roof much further. When this happens, ice damming form the entire length of the area you just shoveled!

3. Uncomfortable with removing ice damming yourself? If you need to hire a professional to remove the snow and ice from your roof, be sure to find the right company. Check to make sure they are bonded and insured. When they are on your roof, don't be afraid to ask questions to ensure safety procedures.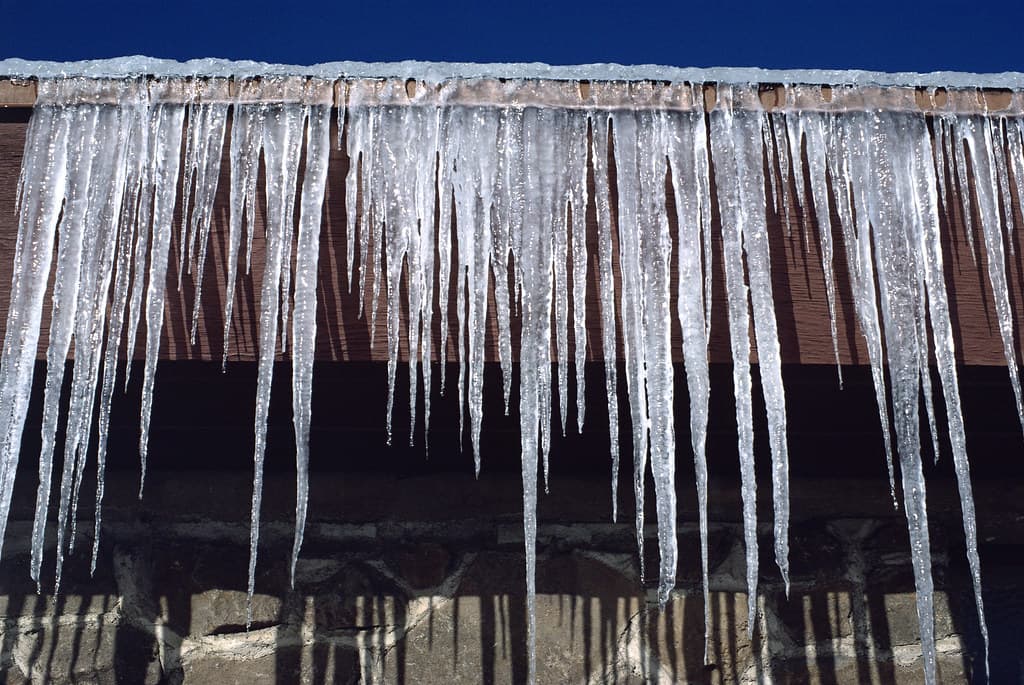 Help! Can you make the water stop running into my home in Volga?
If you are in Volga, you know how hard our winters can be and how much snow we can see. If you have snow on your roof and icicles coming down from your gutters, your water leak is most likely cause by ice damming that is preventing the water from running off the top of your roof. Normally water will flow down your roofing materials and into your gutters, but something may be blocking that process. The only way to stop it is to remove the snow and the ice damming on your roof. Ice Dam Crew is the leading and most trusted Ice Dam Removal company in Volga!
Ice Dam Crew is fully bonded and insured for all residential and commercial properties in Volga. The Ice Dam Crew are the true professionals and skilled at operating in harsh winter conditions. We work all over the Sioux Falls and surrounding areas. Ice Dam Crew is the most trusted company in the USA at finding and removing ice dams from roofs.
Reach out to us at
1-855-GOT-ICEE (1-855-468-4233)
to get started.
Is there an Ice Dam Crew in Volga?
Our Service Area
Proud to Serve The Following Minnesota Cities:
Box Elder
Brookings
Huron
Mitchell
Pierre
Rapid City
Sioux Falls
Spearfish
Vermillion
Watertown
Huron
If you are experiencing issues with ice dams beyond those areas, just give us a call! We work throughout the United States and we can take care of your ice dams and the problems they are causing you.
Additional Ice Dam Crew Services in Volga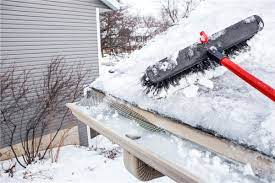 Emergency Ice Dam Removal in Volga
We have 24/7 support for Emergency Ice Dam Removal. We guarantee to stop the leak within 30 minutes of arrival to save your home from more damage!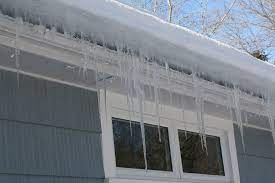 Non-Emergency Ice Dam Removal in Bglcity
Stop the leak before it starts! Call now for your free estimate. We are fully insured for Residential and Commercial Ice Dam Removal!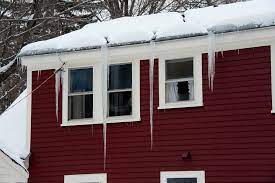 Roof Snow Removal and Vent Clearing
Keeping the snow off of your roof is a crucial part in preventing ice dams. We can remove the snow from your sidewalk, driveway and any other previously shoveled surfaces. Call today to learn exactly how snow causes Ice Dams on your roof!


Frequently Asked Questions about Ice Dam Removal in Volga