How Do Ice Dams Form in the Northern United States?
There are multiple reasons why Ice Dams form on building structures. Two of the most common reasons are a lack of insulation and to much snow on your roof.

Most times when we get large amounts of snow or as we get enough snow built up over time, the snow starts to cover up your vents. These roof vents you don't think about often but they are very important. As heat rises your roof needs to breath, these vents allow your roof to do that. Now if your vents are clogged, the heat has nowhere to go, so then it starts to heat up your roof. Once your roof heats up, the snow melts, as it reaches the 2' overhang on the edge of your home, that is no longer heated it now freezes. Over days of this happening ice dams get large and start to hold water. Once there is too much water, it breaks through your roof and you have an unwanted waterfall inside your home or walls.
A Professional Approach to Ice Dam Removal Anywhere in the Northern United States
Dealing with Ice Dams
It's no secret that the northern half of the United States can experience harsh, frozen winters and heavy snowfall. Don't risk roof or property damage to your home or office this season. Instead, turn to The Ice Dam Crew. We provide safe and effective roof ice dam removal and prevention services for homes and businesses in your community. Day or night, we'll come out to remove snow and ice from your roof and keep your building secure.
Climbing up on your roof in the winter to remove snow or ice dams can be dangerous. Before you climb up on your steep roof to shovel, reach out to Ice Dam Crew to:
Safely climb onto your roof and remove snow.
Make sure your chimney and attic vents are clear.
Remove ice dams without damaging your roof.
In states where there can be massive snow built up such as in Minnesota and Wisconsin, your roof is typically warmer than outside temperatures. When snow makes contact, it runs down your shingles and freezes once more at your gutter line. As the process repeats, an ice dam accumulates and gets heavier and heavier. This triggers issues such as water damage, excessive roof pressure, and other issues. If you hear the drip, drip of water overhead when you walk outside, there's a good chance that your home is already grappling with an ice dam issue.
Ice Dam Crew is one of North America's leading and trusted Ice Dam Removal companies. Ice Dam Crew is fully bonded and Insured for all residential and commercial properties. We are a family-owned company that guarantees to stop your leak within 30 minutes of arrival. We use low-pressure steamers that are custom-made for ice dams so they do not damage your roof. We do NOT use hot water pressure washers like most ice dam removal companies do as these damage your roof and shingles when they blast 4000 PSI out of the tip of the hose and do not burn as hot as a true custom steamer. Please see our FAQ page to see the difference between our True Steamer and our competitor's hot water pressure washer.
Although Ice Dam Crew may not be the "Cheapest" ice dam removal company in the country, we guarantee customer satisfaction while still being fully bonded and insured.
Remove snow from the Ice Dam & Roof Vents
Apply a steam treatment to the affected areas
Carefully melt ice down into manageable sized pieces
Remove ice from the affected areas
Before and after photos of the ice dam removal process
Guaranteed leaking stopped after 30 mins after arrival
Gutters that flow as they should
Salted and clear sidewalks and driveway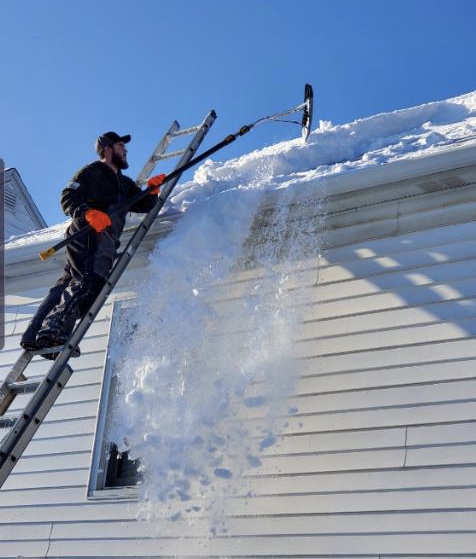 Professional Ice Dam Removal Services
Ice Dam Crew helps residential and commercial property owners save money by preventing the accumulation of ice build-up on top of your property. Ice Dam USA uses low-pressure steam machines to cut through the thickest ice dams without penetrating water and further damaging your roof. All our equipment and employees are fully bonded and insured to work on roofs over all types such as:


Residential homes


Cabins


Restaurants


Movie Theaters


Anywhere Ice can build!
No matter where you need the
ice dam removal Minneapolis
, Ice Dam Crew can do it with your satisfaction guaranteed!
Call Now!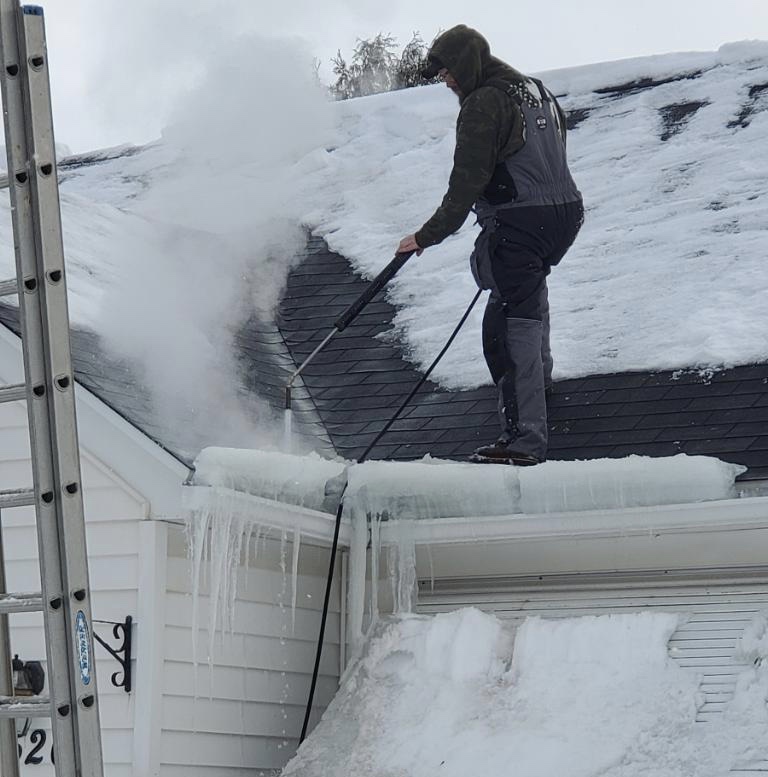 Family Owned & Operated


The Ice Dam Crew does NOT hire subcontractors. We are a family-owned & operated Ice Dam Removal company with a group of trained technicians based in the state of Minnesota. No, the price does not inflate if you are on the East Coast, West Coast, or anywhere in the country. If you are having problems, your neighbors are likely having problems and we are more than likely nearby ready to serve you! Call now to speak with us 1-855-GOT-ICEE (1-855-468-4233)
Proud to Serve The Northern United Sates


Please Select Your State Below:

Frequently Asked Question About Ice Dams