Grand Rapids Gutter Ice Removal
Clear the ice out of your gutters to get the water moving
We can help
Gutter Ice Removal Service in Grand Rapids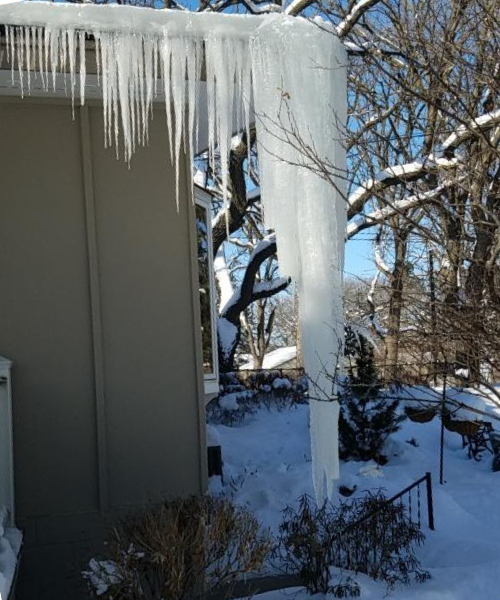 Why would I need gutter ice removal in Grand Rapids?
Icicles in Grand Rapids can be a beautiful thing, but they are really an indicator that your gutters are starting to fill with ice. Many times, those icicles are formed by water that has run over the top of a portion of frozen gutters. They are a key indicator for the need of gutter ice removal service.
As snow begins to melt off your roof from the heat released by your home, the water runs down your roof and into your gutters. That water flows through unmelted snow and gets colder as it moves down the roof. Often it is near freezing by the time it reaches your gutters. Your gutter systems are very susceptible to ice as they are not insulated at all. When the water gets into the gutters, it can often freeze.
Leaves or other debris in your gutters will block water under normal rains, but just add to the problem when you are dealing with ice. The blockages slow the water and make it more likely to freeze in your gutters before it has a chance to get to your downspouts. A blockage in your downspout can lead to serious damage as a full downspout on a single story home can contain more than 60 pounds of ice when full. This can lead to your gutter system being pulled away from your home. While it may not come completely off, gaps formed behind your gutters will cause areas that water can flow into.
The weight added to your gutter system by frozen water and icicles can begin to pull your gutters away from your home. This creates additional gaps that water may get into. Gutter systems are generally nailed into the roofline of your home in
Grand Rapids
and if they pull away, water will get into those nail holes and your home. Not every leak is a disaster, but they will all cause spotting, rot and other damage to your walls and ceilings.
Water can leach back into the facia boards, and into the soffits of your home. As it puddles there, it will begin to leak down the walls and through your ceilings. When you notice your gutters are frozen, the faster you act to clear them, the less likely you will face damage to your property. This would be time for a gutter ice removal service like The Ice Dam Crew.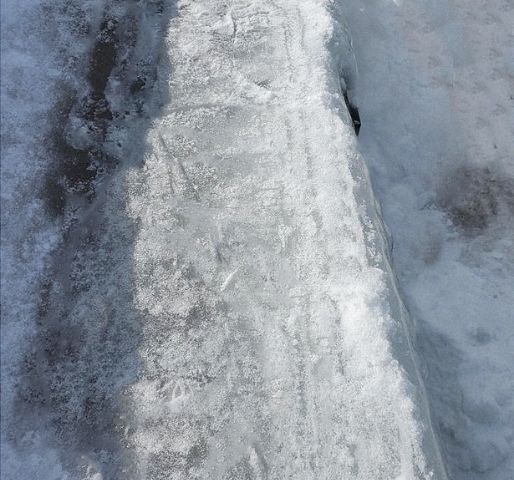 Will a leaf guard or gutter guard help?

That is a common question and the answer is: Maybe.

Not all gutter covers are the same so the answer is that it simply depends on the style that you have installed. Many of these systems are designed to keep leaves out of your gutters and downspouts. They let the water flow freely into the gutters. That water can still freeze and cause problems with gutter ice that will require a gutter ice removal by a professional service company

Once the water freezes in your gutters and downspouts, there is just no place for it to go other than out of the gutter. Just like a glass of water, once your gutters are full, water will spill over. If you've ever overfilled a glass, you'll remember the water doesn't just go out one side. It goes over all the sides.

Melted snow and ice from your roof will do the same thing. It will run down the side of your home and create icicles over the gutters. But the water can also leak behind the gutter and into your soffits. Once there, it can refreeze or begin rolling down inside your home behind the siding and into your studs.

This water will begin to create mold and mildew when temperatures warm up. Your studs, siding and insulation will all be compromised as well. While the wall may not collapse right away, if the problem continues, it can create a big problem later. Using a gutter ice removal service can save you headaches now and prevent issues in the future.
Can you make the water stop running into my home?
There is only one way to quickly stop the water from entering your home and that is to remove the gutter ice. Gutter ice removal can be dangerous. Placing a ladder on frozen ground and leaning it on frozen gutters can easily lead to accidents. The Ice Dam Crew has worked on thousands of homes and businesses in Grand Rapids and throughout the United States. We know how to remove ice dams and gutter ice safely and quickly to stop additional damage from the water. On top of that, we do it safely so as not to damage your gutters or roofing materials.

Faster results means savings for you as well. It's not all about the old adage: "Time is money." The reality is the faster you can stop the water running into your home, the faster you can stop additional damage. If water continues to flood in, it can collapse ceilings, ruin walls and flooring and turn electronics into useless items. We guarantee that we will stop the water from coming into your home within 30 minutes of beginning work..

We use steam to clear gutter ice, unlike many other companies that use a heated pressure washer. This gives you fast results with little to no damage to your roof. Damage that could present problems in the future with damaged roofing materials or gutters leading to more ways for water to get into your home. The last thing you want to do after dealing with damage from gutter ice is to have to replace your roof.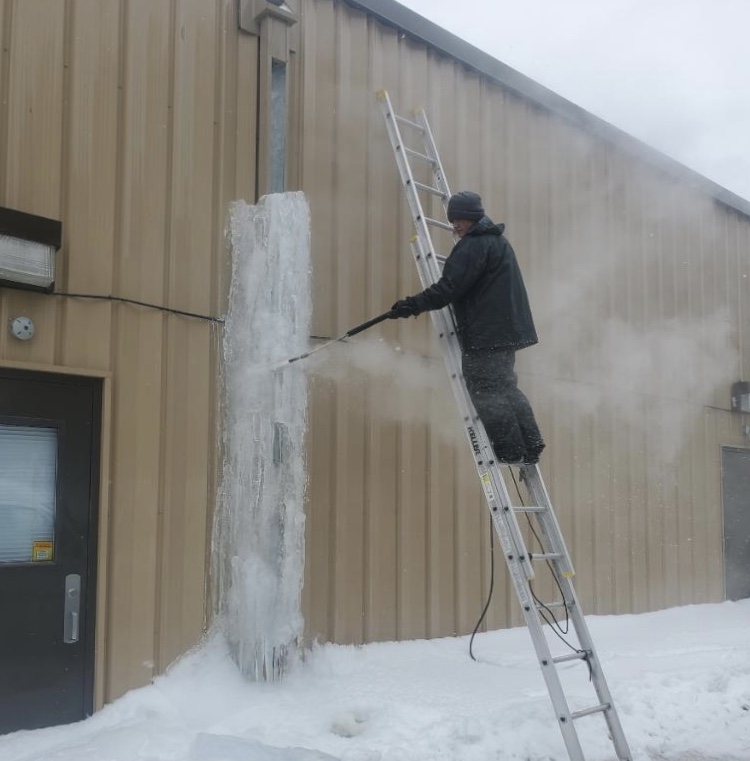 Fully Bonded & Insured Gutter Ice Removal Service
Removing gutter ice from your roof can be dangerous and may cause damage if you do not get professional help. The trained professionals from The Ice Dam Crew can remove your gutter ice and ice dams from your roof in a safe and timely manner. We use true steamers, this means it is a low pressure machine burning at 400 degrees. This steam cuts through the ice on your roof and does not melt it using a hot water pressure washer like the other guys.

Climbing onto a snowy/icy roof in the middle of winter any time of day or night is dangerous. This is why we want to ensure you that we are fully bonded and insured in Grand Rapids and all of Michigan. We take all of the required safety measures needed to stay safe on your roof. Having a trustworthy company working on your roof is important so that is why we want to give you piece of mind with our before during and after photos and our 22+ years of experience.
Contact Us
Our Service Area
Proud to Serve The Following Areas:
Ann Arbor
Canton
Clinton
Dearborn
Lansing
Livonia
Macomb
Sterling Heights
Troy city
Warren city
Westland
And All Areas in Between
If you need gutter ice removal beyond those areas, give us a call! We work throughout the United States and we can take care of your ice dams and the problems they are causing you.
Frequently Asked Questions about Gutter Ice Removal in Grand Rapids