Wisconsin Gutter Ice Removal Service
Why would I need gutter ice removal?
Ice dams often cause leaks into a home as mentioned on our
Ice Dam Removal
page. An often overlooked area is the gutters.
When water melts and runs off of the roof and into the gutters, it often freezes. There is hardly ever any insulation on gutters in
Wisconsin
and they are typically made of thin metal. Once cold, they'll remain cold and do not help water runoff if filled with ice resulting in "gutter ice" that can fill the gutters and downspouts.
Icicles can be a beautiful thing, but they are really an indicator that your gutters are starting to fill with ice. Many times, those icicles are formed by water that has run over the top of a portion of frozen gutters. Hopefully, all of that water flows over the top and down to the ground. However, the water may also be leaching back into the facia boards, and into the soffits of your home. As it puddles there, it will begin to leak down the walls and through your ceilings. This would be time for a gutter ice removal service like The Ice Dam Crew.
The weight added to your gutter system by frozen water and icicles can begin to pull your gutters away from your home. This creates additional gaps that water may get into. Gutter systems are nailed into the side of your home and if they pull away, water will get into those nail holes and you home. Not every leak is a disaster, but they will all cause spotting, rot and other damage to your walls and ceilings.
Will a leaf guard or gutter guard help?
That is a common question and the answer is: Maybe.

Not all gutter covers installed in Wisconsin are the same so the answer is that it simply depends on the style that you have installed. Many of these systems are designed to keep leaves out of your gutters and downspouts. They let the water flow freely into the gutters. That water can still freeze and cause problems with gutter ice that will require a gutter ice removal by a professional service company

Once the water freezes in your gutters and downspouts, there is just no place for it to go other than out of the gutter. Just like a glass of water, once your gutters are full, water will spill over If you've ever overfilled a glass, you'll remember the water doesn't just go out one side. It goes over all the sides.

Melted snow and ice from your roof will do the same thing. It will run down the side of your home and create icicles over the gutters. But the water can also leak behind the gutter and into your soffits. Once there, it can refreeze or begin rolling down inside your home behind the siding and into your studs.

This water will begin to create mold and mildew when temperatures warm up. You studs, siding and insulation will all be compromised as well. While the wall may not collapse right away, if the problem continues, it can create a big problem later.
Can you make the water stop running into my home?
Removing gutter ice is the only way to stop the water. The Ice Dam Crew can not only help, but we do it quickly. On top of that, we do it safely so as not to damage your gutters or roofing materials.
We use steam to clear gutter ice, unlike many other companies that use a heated pressure washer. This gives you fast results with little to no damage to your roof.
Faster results means savings for you as well. It's not all about the old adage: "Time is money." The reality is the faster you can stop the water running into your home, the faster you can stop additional damage. If water continues to flood in, it can collapse ceilings, ruin walls and flooring and turn electronics into useless items. We guarantee that we will stop the water from coming into your home within 30 minutes of beginning work.
Ice Dam Crew is one of Wisconsin's leading and trusted gutter ice removal companies. We work all over Wisconsin. From Milwaukee to Madison and everywhere in between. The Ice Dam Crew is fully bonded and Insured for all residential and commercial properties in Wisconsin. We are a family owned company and understand the problems that can arise from water leaking into a home.
We do NOT use hot water pressure washers like most Ice Dam Removal companies do as these damage your roof and shingles when they blast 4000 PSI out of the tip of the hose and do not burn as hot as a true custom steamer. Please see our
FAQ's
page to see the difference between our True Steamer and our competitors hot water pressure washer.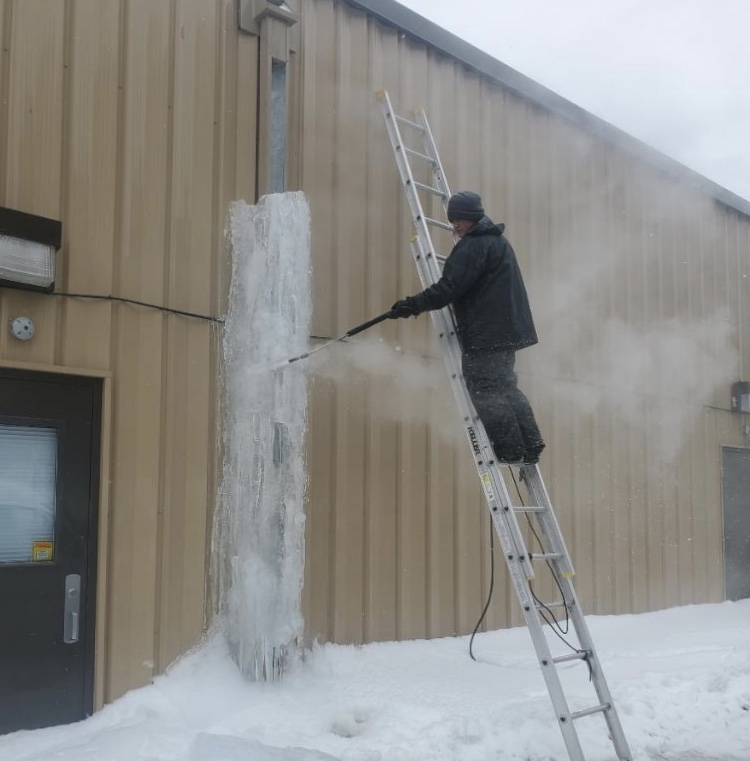 Fully Bonded & Insured Gutter Ice Removal Service
Removing gutter ice from your roof can be dangerous and may cause damage if you do not get professional help. The trained professionals from The Ice Dam Crew will come to your Wisconsin home and can remove your gutter ice and ice dams from your roof in a safe timely manner. We use true steamers, this means it is a low pressure machine burning at 400 degrees. This steam cuts through the ice on your roof and does not melt it using a hot water pressure washer like the other guys.

Climbing onto a snowy/icy roof in the middle of winter any time of day or night is dangerous. This is why we want to ensure you that we are fully bonded and insured for your safety and ours. We take all of the required safety measures needed to stay safe on your roof. Having a trustworthy company working on your roof is important so that is why we want to give you piece of mind with our before during and after photos and our 22+ years of experience.
Contact Us
Our Service Area
Proud to Serve The Following Areas:
Appleton
Eau Claire
Green Bay
Janesville
Kenosha
La Crosse
Oshkosh
Racine
Sheboygan
Waukesha
West Allis
And All Areas in Between
If you are experiencing issues with gutter ice beyond those areas, just give us a call! We may be able to make special accommodations to suit your needs.
Frequently Asked Questions about Gutter Ice Removal in Wisconsin